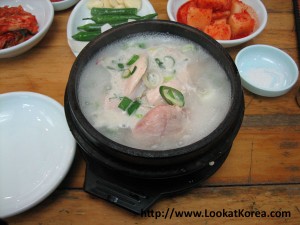 Sam-Gye-Tang
Sam(= Ginseng)-Gye(=Chicken)-Tang(=Soup)
Samgyetang is a famous prevention sickness food for the hot weather like a summer.
How dose Samgyetang prevent sickness?
The reason is Samgyetang include medicinal herbs such as ginseng, jujube, ginger and wolfberry also be added.
Cut the belly of a whole young chicken, and remove all of the internal organs.
Put glutinous rice, garlic and jujube inside of chicken, and boiled with ginseng and another medicinal herbs.
I strongly recommend Samgyetang.
If you have chance to be in Korea, You got to eat Samgyetang.
Make sure Eating Samgyetang in specialty Samgyetang restaurant, not a regular restaurant.
Price is suppose to be 10,000 KRW ~ 15,000 KRW.
Enjoy Samgyetang !

A recommended restaurant
Baeknyeontojongsamgyetang : Hongik Univ area, Seoul