[ad#Google Adsense]
Deluxe Taxis, Korean call it Mobeom Taxi.
It has Black color with yellow stripe, yellow sign on the top and the words "Deluxe Taxi" written on the sides.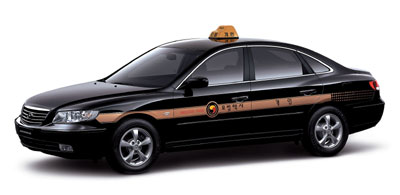 Moboem taxi, I can put on the word 'exemplary taxi'.
They offer more high class of vehicle and a high standard of service.
Fares are 4,500 KRW for the first 3 kilometers and 200 KRW for each additional 164 meters or each 39 seconds if the speed drops below 15 kilometers per hour.
If you take taxi from Incheon International Airport to City hall, you got to have more than 80,000 KRW(including toll), fare can be less or more by traffic situation. There is no late night surcharge.
You can call Deluxe taxi at 02-558-8000(English and Japanese).
If your location is major city street, hotel and stations, you can easily find deluxe taxi. If you not, you better make phone call.